Choosing a canvas printer from amongst the diverse number of online suppliers can be extremely difficult.
The best canvas prints are all handmade using high-resolution digital photos or artworks. Great results require a combination of printing expertise, material sourcing and craftsmanship in order to design, print and frame every canvas print to consistently high standards.
Cutting edge printing
All our fine art canvas prints are created using a 12-colour giclée printing process: the best quality you'll find online. We operate some of the most sophisticated printing machinery currently available; ensuring every image we print has the opportunity to look like a masterpiece. By using a giclée printing process we can produce vivid and vibrant colours whilst maintaining exceptional accuracy and detail in your high resolution images.
High-quality artist canvas material
We print your image on 400gsm cotton canvas: this is a finely textured artist-grade cotton material which consistently reproduces fine detail with outstanding clarity. We then handcraft a custom wooden frame — in any size you need up to a maximum of 2.5 metres — over which your canvas print is tightly stretched.
Your stretched canvas print is then hand finished by one of the UK's most experienced canvas picture framing teams. We ensure that each corner fold is perfectly smooth, tight and that all fixing staples are covered with special protective tape.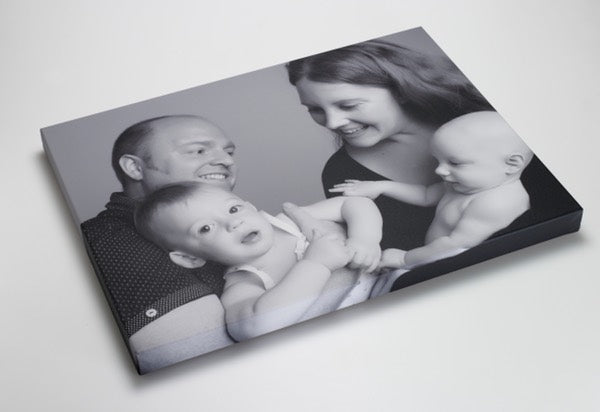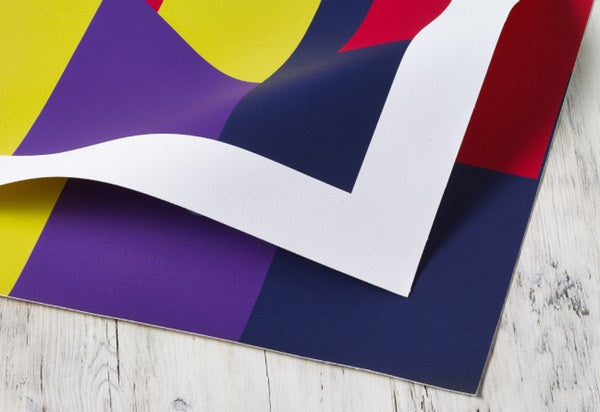 Choice of canvas depths
The depth of your canvas frame determines how far your canvas print will stand off the wall.
You can choose from three depths of canvas print: Slim (19mm), Classic (38mm) or Deep (44mm). Unlike other low cost canvas printers we only use premium European knotless pine canvas frames (i.e. the internal stretcher bars around which the canvas is stretched). A visual comparison of these three different depths can be found below: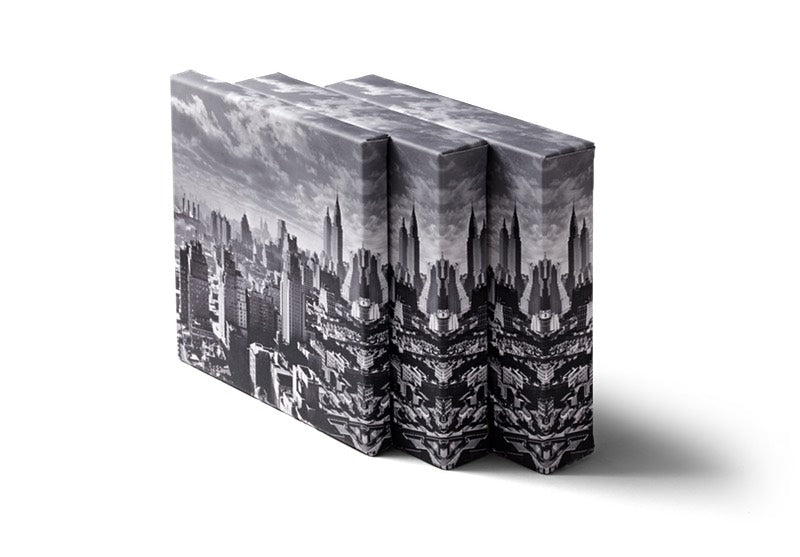 Each canvas print frame is milled with a curved profile; minimising contact with the face of the canvas; preventing unsightly impression marks and surface cracking.
We use finger-jointed canvas print frames which create corner tension helping resist warping. For larger sizes, we add wooden 'wedges' to each corner; ensuring your canvas print surface remains taut and allowing easy re-stretching in future years.
Canvas print finishes
You can select your choice of canvas edge profile.
Please note that if choosing an image wrap, the edges of your photo will only appear on the sides of the canvas, so make sure that you allow sufficient space around the central subject of your photo for this. This is particularly important with small but deep canvases.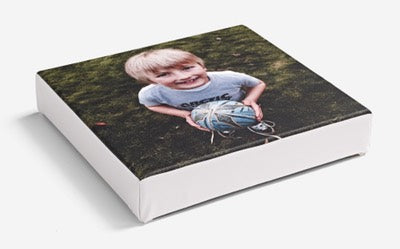 White edge A solid white unprinted edge.
Black edge A solid black printed edge.
Image wrap Part of the image is wrapped onto the sides.
Framed canvas prints
You can transform a standard canvas into a unique work of art with our framing options.
A traditional stretched canvas print is made by creating an internal frame using specialist strips of wood known as canvas stretcher bars. Rolled cotton canvas material (upon which your photo is printed) is hand-stretched over the internal frame and tightly fixed to the back.
Our framed canvas prints have the addition of a modern slip frame added around the outside edge of the canvas frame, creating a unique and original work of art.
Framed canvas prints come in a choice of a black or white frame, and are made from FSC-approved wood.
Dimensions
The frame is 54mm deep with a 12mm front face that sits approximately 5mm from the edge of the canvas print, creating a "floating border".